Oil Change & Maintenance Check
In addition to our full smog check services we offer our signature oil change and maintenance services. Laguna Canyon Smog cares about your vehicle's longevity and we want to help you keep it properly maintained. An oil change is the easiest and cheapest way to help keep your car well maintained.  As an extra benefit during your oil change we perform a vehicle inspection and check all essential fluids to keep you informed and your vehicle humming.
Schedule an Oil Change
Coupon Form
Why do I need my oil changed?
Any type of car requires regular oil changes & maintenance in order to keep your engine operating properly to ensure your cars longevity and healthy road life.
How often do I need my oil changed?
Usually you should change your oil between every 3,000 and 7,500 miles for older cars. For newer cars, auto companies recommend that you change your oil at 5,000, 7,000, 10,000 or even as high as 15,000 miles depending on your make, model, and the type of driving you do. Refer to your service manual or contact us for a custom recommendation.
Regular Oil Changes Help:
Regulates Engine Temperature
Clean the Engine
Provides Proper Lubrication
Increase Fuel Mileage
Reduces Engine Problems
Increases Motor Longevity
Clean oil protects your engine from damaging friction and temperature. Dirty or contaminated oil reduces the longevity and wears out your motor. It is the cheapest car maintenance you can provide your vehicle.
Schedule an oil change appointment today and save money with our oil change coupon.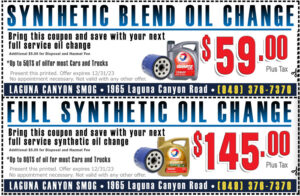 Oil Change Coupon