Smog Testing Service & Certification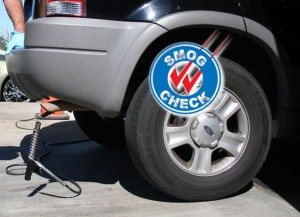 Laguna Canyon Smog  provides you with:
A Clean Facility
Standard Smog Test
Vehicle Verifier (VIN Verification Service)
Star Certified Smog Test
Smog Check Certifications
Gross Polluters Certifications
FREE WIFI Internet Access.
DMV Recommended
Certified Trained Smog Technicians
Change of Ownership Smog Test
Smog Check Coupons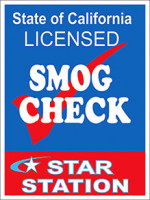 Laguna Canyon Smog & Auto Repair is your official Star Certified California Smog Check Station offering Smog Testing & Automotive Repair services in Laguna Beach.
With over 20 years of Smog Testing service experience, we offer our customers a professional smog service who takes extra care of your car during servicing. We also know your time is valuable and get you out door with your smog certificate as quick as possible. We offer a clean waiting area facility which includes free WIFI INTERNET access as a courtesy to our customers. So sit back and surf the web while you wait to receive your California Smog Certification hassle free.
We are a registered California License Star certified smog & auto repair service station. Customer satisfaction with quality smog checks and professional automotive repairs is the focus of our business. We serve the entire orange county area but exclusively provide smog testing near the coastal beaches of Southern California.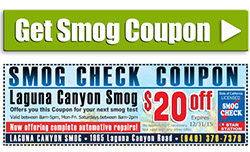 Smog checks near me and close by the following cities; Laguna Beach, Laguna Hills, Dana Point, Newport Coast, Laguna Niguel, Aliso Viejo and Laguna Wood.
We offer complete foreign and domestic auto repairs
Laguna Auto Repair & Mechanic Service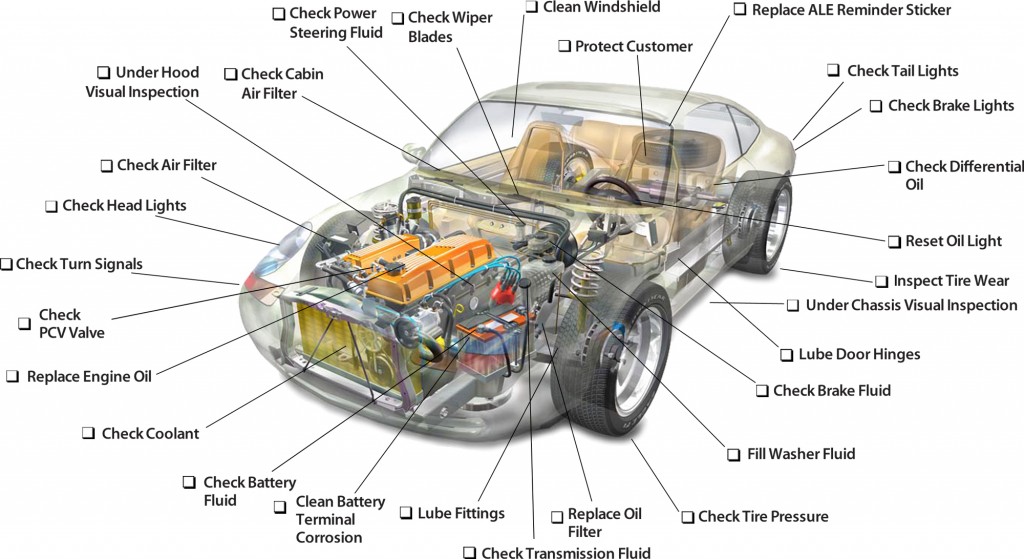 Schedule Auto Repair
Laguna Canyon Smog Auto Repair technicians are ASE Master Certified Mechanics and offers full service auto repairs, automotive maintenance, technical expertise and competitive pricing.  Laguna Canyon Smog has over 20 years of automotive experience to provide you with quality customer service to keep your car maintained.
Technicians employed to perform inspections, repairs and certifications at stations in the Enhanced Program areas must possess an Advanced Emission Technician License.
All our auto mechanics who perform inspections, car repairs, and certifications has obtain an Advanced Emission Technician License and ASE Master Certified. Laguna Canyon Smog services car repair services & automotive inspections for laguna beach and all of Orange County.
To find a good mechanic is not always easy. At Laguna Canyon Smog all our mechanics are specially trained certified mechanics that will always repair your car with the utmost respect and care.
(949) 376-7370
Car Maintenance Services
Automotive Tune Ups
Oil Change, Filters & Lube
Pre-Purchase Car Inspection
Factory Scheduled Maintenance
15k/30k/60k/90k/120k mile service
Hoses Inspections
Auto & Manual Transmission Service
Overhauls
Wheels 7500 Mile
Professional Auto Mechanic onsite
Under the Hood
Complete Auto Repair
Complete Engine Repair
Radiator Repair & Service
Serpentine Belt
Timing Belts & Chains
Transmission Service & Repair
Alternators & Starters
Belts & Hoses
Car Batteries
Computer Engine Diagnostics
Cooling System Repair & Service
Electrical Systems Repair
Car Emission Repair
Fuel Pumps & Lines
Fuel System Injector Cleaning
Overheating Issues
Coolant Flush
Engine Replacements
Engine Rebuilding
Under the Car
Fluid leaks
Catalytic Converters
CV Shafts & Joints
CV Axles
Driveline Repair
Exhaust & Muffler Repair
Four-Wheel Drive Repair
Rack & Pinion Steering Systems
Power Steering
Steering & Chassis
Shock Absorbers & Struts
Rear End Shocks
Springs & Suspension
Universal Joint
Wheel Alignment
Wheel Balancing
Wheel Bearings
Drive Train
ABS Repair
Axle Repair
Brake Repair & Service
Clutch Repair
Tires
Car Tire Repair
Performance Tires
Tire Balancing
New Tire Service
SUV & Truck Tires
Exterior & Accessories
Headlights & Headlamps
Electrical Accessories
Power Window Repair
Trailer Hitches
Windshield Wipers
Custom Wheels
Chrome Accessories
Cold Air Intakes
Custom Exhaust Systems
Ground Effects
Off-Road Lift Kits
Performance Exhaust
Suspension Lowering
Body Work
Collision repair
Dent Repair
Car paint
Window tinting
Air Conditioning Systems
Electrical Systems Repair
Schedule Auto Repair
Auto repair mechanic near me and close by the following cities; Laguna Beach, Laguna Hills, Dana Point, Newport Coast, Laguna Niguel, Aliso Viejo and Laguna Wood.
Oil Change & Maintenance Check
In addition to our full smog check services we offer our signature oil change and maintenance services. Laguna Canyon Smog cares about your vehicle's longevity and we want to help you keep it properly maintained. An oil change is the easiest and cheapest way to help keep your car well maintained.  As an extra benefit during your oil change we perform a vehicle inspection and check all essential fluids to keep you informed and your vehicle humming.
Schedule an Oil Change
Coupon Form
Why do I need my oil changed?
Any type of car requires regular oil changes & maintenance in order to keep your engine operating properly to ensure your cars longevity and healthy road life.
How often do I need my oil changed?
Usually you should change your oil between every 3,000 and 7,500 miles for older cars. For newer cars, auto companies recommend that you change your oil at 5,000, 7,000, 10,000 or even as high as 15,000 miles depending on your make, model, and the type of driving you do. Refer to your service manual or contact us for a custom recommendation.
Regular Oil Changes Help:
Regulates Engine Temperature
Clean the Engine
Provides Proper Lubrication
Increase Fuel Mileage
Reduces Engine Problems
Increases Motor Longevity
Clean oil protects your engine from damaging friction and temperature. Dirty or contaminated oil reduces the longevity and wears out your motor. It is the cheapest car maintenance you can provide your vehicle.
Schedule an oil change appointment today and save money with our oil change coupon.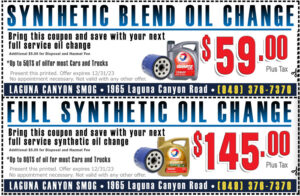 Oil Change Coupon
Car Air Conditioning Repair & Inspection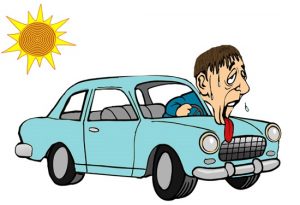 Laguna Canyon Smog offers annual A/C inspection and performance checks to system diagnosis and ac Freon recharge or replacement of ac components handled by our qualified technicians. Regular A/C inspections help ensure cooling efficiency and identify possible refrigerant leaks. Additional services your vehicle might need include:
AC System fan level check
Air Conditioning System PSI pressure verification of Freon level
Output temperature check
Examination of blower fan and compressor
AC Belts and hoses inspection
Diagnosis of electronics to locate problems with wiring, faulty switches, fuses, or internal compressor seals
Car AC Recharge Service
When your Car's air conditioning systems leaks can occur we offer an air conditioner recharge, which includes:
A/C Recharging with additional refrigerant
Utilizing fluorescent dye to visually reveal system leaks
Laguna Canyon Smog A/C recharge services include everything from inspection to repair. If your vehicle's AC has problems with cooling you down from California's heat then let us help you cool down by providing you with professional automotive A/C repair services.