ASE Certified Auto Shop
All Laguna Canyon Smog technicians are ASE Master Certified Mechanics that offer full-service auto repair, automotive maintenance and technical expertise at competitive pricing.  In addition to this highly regarded certification, Laguna Canyon Smog has over 20 years of automotive experience to provide you with quality customer service in order to keep your car well maintained, improving performance and extending the life of your vehicle.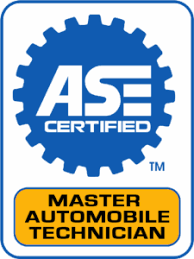 ASE Certification and Why It Matters
When you go to any auto repair shop, you'll likely see framed pictures, certificates, and acronyms displayed on the walls related to vehicle parts, repair procedures and the shop's credentials. Many of these credentials are nice but there is one that carries heavy-weight to the authenticity of the service you will receive: ASE.
The National Institute for Automotive Service Excellence or ASE was founded in 1972 in Washington D.C. in response to consumers needing a verifiable professional service technician authentication. Before the ASE was established, customers would have to guess which auto mechanic shop to go to. It was hard to tell which shop was trustworthy.  Only through the process of trial, error and referrals could people really tell if an automotive repair shop could be trusted to provide a reliable repair at a competitive price.  If you happened to be new to an area then you would have to start this process all over again in order to find a mechanic you could trust and depend on.  In addition, mechanics could get away with providing a small repair at a large repair price without the customer ever finding out. In response to some of these issues, the ASE was formed.
Because ASE is a non-profit organization it is therefore accountable to non-profit law that is required and structured to operate with integrity. In addition, the ASE bases its certification process on industry standard best practices and upon keeping certified technicians up to date on technology changes and improvements. For these reasons, it is very important to use an auto repair shop that has ASE certified technicians working on your vehicle.
The ASE has a stringent testing process that requires the certification testing to be conducted at an approved Prometric Test Center. Nine testing categories are offered with three additional certification levels available that include Master, Advanced and Blue.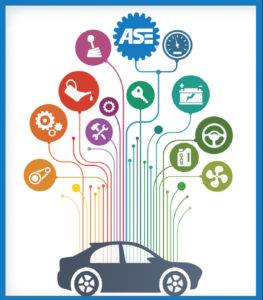 The categories include;
A1 – Engine Repair Certification
A2 – Automatic Transmission Certification
A3 – Manual Drive Train & Axles Certification
A4 – Suspension & Steering Certification
A5 – Brakes Certification
A6 – Electrical Systems Certification
A7 – Heating & Air Conditioning Certification
A8 – Engine Performance Certification
A9 – Light Vehicle Diesel Engine
The Master Automotive Technician ASE Certification is issued after all nine categories are passed. Recipients of this certification are considered experts in auto repair and service. Recertification is required every five years to maintain the Master Certification. Of the 230,000 auto repair shops that operate in the United States, only 30% of them offer Master Certified technicians. Laguna Canyon Smog is proud to be a part of this 30%, bringing you a higher level of excellence that you and your car deserve.
Proven Automotive Service Excellence
Laguna Canyon Smog maintains 100% ASE Certified technicians.  We don't carry just one certification that was issued to the owner, frame it on the wall and then hire a staff of non-certified technicians.  Providing a high level of authenticity and high quality are very important to our company and our customer's value standards.  While it's true everyone must start somewhere, you probably don't want a fresh out of school mechanic using your car as a learning experience. It's essential to insist only on a skilled ASE technician to work on your vehicle, especially if you value what you drive.
How Does an Auto Repair Technician Become Certified?
The process to become ASE Certified is not an easy one. In addition to successfully passing the certification testing, technicians must complete a minimum of 2 years of qualified work experience. There's a reason not all technicians are ASE-certified. The exam, which covers engine repair, automatic transmission, transaxles, manual drive trains, axles, brakes and suspension, electrical systems and heating and air conditioning systems, is challenging. Auto repair technicians earn the distinction of being ASE-certified by studying, passing an ASE certification test with questions about all vehicle systems and components and possessing two years of on-the-job training or a year of training and a degree in auto repair. One-third of test takers fail the test the first time they take it. Once a technician does pass the test and achieves ASE-certification, he or she must retest every five years to ensure they stay abreast of changing technology. LC Smog's company policy requires all of their technician's to stay up-to-date on their certification so as to ensure they are up to date on automotive system changes and technology updates.
Our Master Certification standards benefit you by providing verifiable, high-quality service for your vehicle. We invite you to trust us for your auto repair and maintenance needs.
Schedule an appointment with Laguna Canyon Smog.
Schedule A/C Appointment